ADVERTISEMENT








If you have logistics/ transportation challenges or questions, industry experts in the following areas stand ready to help. Click the area you are interested in to use IL's FREE Request for Information/Request for Proposal service:






Are you interested in upgrading and improving your logistics and supply chain skills? Contact leading universities and professional institutions for the information you need to prepare for the future.

Click here!




It's back to school time! Advance your logistics skills. Check out our special careers section.

Click here!




IL values your opinion, input, and experience. Do you have a topic to share with other readers? To discuss guest editorial opportunities, email

Amy Partridge

, or call her at 212-629-1563.




Heard of a new transportation or logistics product and service that makes life easier?

Clue us in!




Missing your hard copy of Inbound Logistics?

Click here to subscribe.





POINT THEM IN THE RIGHT DIRECTION








Please do not respond to this email. If you would like to unsubscribe, see the link at the bottom of the newsletter. If you are having trouble viewing this version of the newsletter...click here
ADVERTISEMENT
New Report: Reduce Transportation Costs By Up To 30%

Download your free copy of this valuable report and discover key ways transportation management systems (TMS) automate processes and reduce costs associated with getting products to their destination on time. The report also reviews vendor selection criteria.




Download your FREE Copy at:


https://www.highjumpsoftware.com/sce/InBoundLog20060904
FEATURED ARTICLES
The Consumer Products Supply Chain: Shopping for Solutions
Consumer products companies battled through 2005 - a year fraught with soaring fuel costs, new food labeling requirements, and hurricanes that damaged stores and drove consumers away. Now they are looking to file their own shopping carts with more effective tools to combat supply chain hiccups and ensure consumers get the goods they need.
Temperature-Controlled Logistics: Cold Comfort
Perishable-food shippers are warming up to the idea that public refrigerated warehouses and 3PLs are well equipped to handle their diverse temperature-controlled storage and transportation needs. Outsourcing refrigerated logistics lets food companies chill a little.
Logistics by the Book
Throw one of these recommended reads into your briefcase or travel bag to boost your logistics knowledge.
10 Tips: Finding Capacity When None Exists
Shippers everywhere are having trouble finding capacity, thanks to the driver shortage, fewer trucks, and rising fuel and insurance costs. These challenges are likely here to stay for awhile, so shippers need to plan ahead. Here are 10 tips on finding capacity.
SUPPLY CHAIN TECHNOLOGY

We've Got a Long Way to Go, Baby
Though technology solutions seem pervasive in our industry, global supply chains are far less automated than they should be.
FORKLIFT BUYERS GUIDE
ADVERTISEMENT
---

---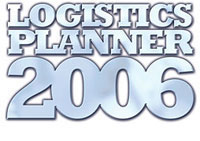 The 2006 Logistics Planner gives you detailed information on the market leaders that can meet your demands for speed, lower inventories, quick and easy tracking and tracing, cycle time compression and integrated logistics expertise. These are the companies that can help you drive change.
---
G L O S S A R Y
Stymied by stickering? Exasperated by XML? And just what is Poka Yoke, anyway? Here's help: Inbound Logistics' glossary of transportation, logistics, supply chain, and international trade terms and definitions:

https://www.inboundlogistics.com/glossary/
---
SUBSCRIBE AND PRIVACY INFORMATION
You are receiving this newsletter because of your involvement in transportation and logistics. To add someone to the newsletter distribution list, type their email address below. To be removed from the newsletter distribution list use the link below.